Construction Projects
Improvements Underway!

BE AWARE OF HEAVY CONSTRUCTION VEHICLES, QUICK STOPS, AND POSTED WARNINGS
In Progress
Construction Well Underway
The project will provide a 24,809 GSF addition to the existing Dorothy and Todd Aaron Medical Sciences Building ("AMSB") located on the campus of Midland College in Midland, TX, and includes renovation to approximately 21,550 SF of the existing educational spaces.

The addition includes new educational/classroom spaces, an ADA testing space, faculty/staff offices, and support spaces. It also includes a full Gross Anatomy Lab complete with specialized mechanical exhaust systems and additional medical equipment. The renovation will accommodate the transition of instructional spaces to meet program needs and conversion of technologies used in current teaching practices.

This project will incrementally increase the current cohort capacity of the educational program and allow for the possibility of future expansion. The project will also entail site work, utility infrastructure analysis, and a separate delivery drive for the anatomical specimens as required by the State Anatomical Board of Texas.
| | |
| --- | --- |
| NOTE > While construction/renovation is underway, access to the main entrance (on the south side of the AMS Building) is restricted to a single door. You may also enter through the northeast corner of the building, from the adjacent parking lot. | MAP |
To find construction site locations, visit our Online Map, and select "Construction."
Excavation, Piping tie-in, and pouring concrete
We have a plumbing contractor onsite to replace a non-working sewer line. There has been significant excavation on this project as the line is located very deep and under the building foundation. Doors have been chained and locked to prevent injury of our students and faculty/staff.
Work and Staging Areas
The re-roofing of buildings is an ongoing, campus-wide project with multiple staging areas (for roofing supplies and equipment) coming and going as projects on buildings begin and end. Watch for fencing and signage to indicate work sites and staging areas around campus.
| | | |
| --- | --- | --- |
| | | |
| Chaparral Center | Chaparral Center | Chaparral Center Parking Lot |
| | | |
| Technology Center | Allison Fine Arts Building | AFA Parking Lot |
To find construction site locations, visit our Online Map, and select "Construction."
Recent Completions
Resurfacing and re-striping of the following parking lots is complete, and they are now open to traffic.
Lot between Peevehouse Administration Building, and Scharbauer Student Center
Lot between Cowden Dining Hall/Scharbauer Student Center, and Davidson Health Science Building
Tennis Center lot
Resurfacing is now complete on the portion of Culpepper Drive that connects Garfield Street with Chaparral Circle, which is now open to traffic.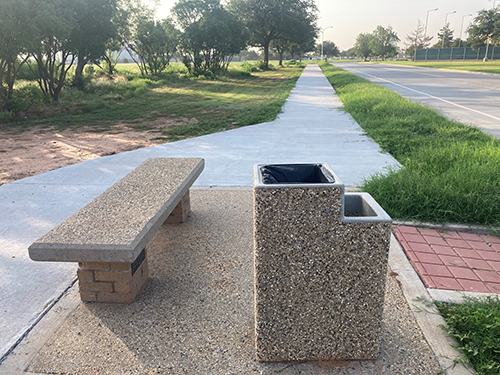 Installation of the final stretch of the sidewalk (between Fox Science Building and the parking lot on the west side of Chaparral Center) is finished, completing the loop around the campus, outside the Chaparral Circle, This sidewalk is a popular route for walkers from around the community.
Apply to MC Now
Thank you for choosing Midland College! If you are here to collect a few credits, take courses to transfer, or here to start a new career, we welcome you.