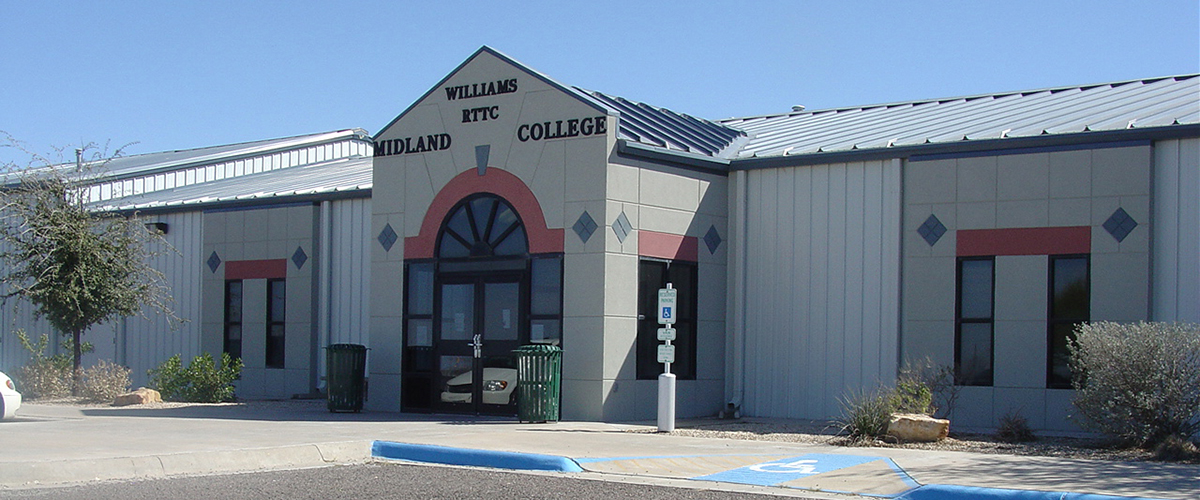 Fort Stockton Branch CampusWilliams Regional Technical Training Center (WRTTC)
Become a WRTTC student! The Midland College Williams Regional Technical Training Center (WRTTC) serves its students through university parallel and occupational/technical certificate and associate degree programs.
Classes for college credit are available to students in traditional classroom settings, via interactive video conferencing and online through MC's learning management system.

A wide variety of continuing education classes and programs are also offered at the Midland College WRTTC. Classes are supported by on-site instructors and linked to the Midland College main campus through advanced instructional technology.
Location

South I-10 Frontage Road, north of Fort Stockton High School

1309 West Interstate Hwy 10
Fort Stockton, TX 79735



Contact
A bit of WRTTC History...
The Midland College Williams Regional Technical Training Center (WRTTC), named in honor of Chicora & Clayton W. Williams, Sr., opened in 1997 as a result of a unique partnership among Midland College, the City of Fort Stockton, Pecos County and the Fort Stockton Independent School District. The Center symbolizes the Williams family's commitment to Fort Stockton and the surrounding area in providing educational opportunities and enhancing workforce development. The Williams family's outstanding leadership spans 100 years and three generations.
The WRTTC was approved by the Southern Association of Colleges and Schools Commission on Colleges (SACS) as the first branch campus of Midland College in 1998. In 2002, thanks to the generosity of Modesta & Clayton Williams, Jr., Abell-Hanger Foundation, Enron Wind, Florida Power & Light and National Wind Power/Orion Energy, Midland College doubled the size of the facility from 10,000 square feet to 20,000 square feet.
The center serves more than 250 students with over 60 credit, continuing education and customized training courses each semester. The WRTTC is also available to community groups and organizations for educational purposes. The facility has a multi-purpose science lab, a nursing lab, a multi-use computer lab, classrooms, a library, student lounge, advising center and faculty offices.
In 2011, Pecos County voters approved the implementation of a branch maintenance tax to support the WRTTC so that the residents of the county have continued access to transfer level credit courses, technical degree course instruction and workforce continuing education courses close to home.
The WRTTC is a full-service branch campus of Midland College, and is the only institution of higher education located in Fort Stockton. Aside from transfer-level core curriculum courses and technical certificate and degree programs, the WRTTC also offers Continuing Education (CE) classes to assist citizens in preparing themselves to be better equipped in the workforce. CE classes are developed based on requests from employers and citizens who desire additional skills for career advancement.
The WRTTC facility is owned by the Fort Stockton Independent School District (FSISD). The cooperative agreement between Midland College and FSISD has been in place for over 20 years.
Welcome

Midland College has many programs and options for our students. If you are investigating the opportunities we offer, our Welcome Center is the perfect place to receive general information.

Apply to MC Now

Thank you for choosing Midland College! Whether you are here to earn a few credits, take courses to transfer or start a new career, we welcome you.