Scorpions and spiders . . . MC grad pursues entomology careerJuly 17, 2018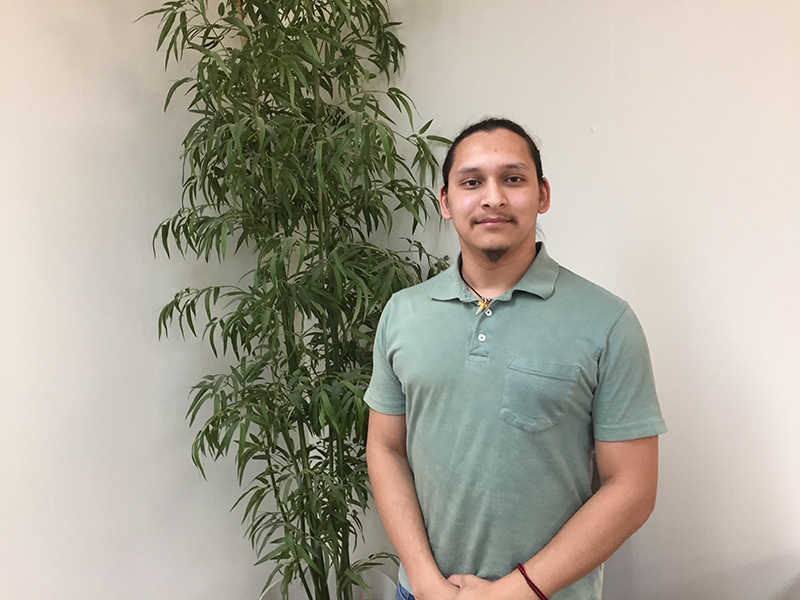 His passion is bugs—all types, but especially scorpions and spiders. His ultimate career goal is to work for the Smithsonian Institute, where the entomology collection is the largest in the world. Alex Martinez, 23, wants to research proteins of venomous insects in order to find a solution to combat diseases of the human nervous system.
In order to accomplish his career goal, Martinez is currently pursuing a baccalaureate degree in Biology at Sul Ross State University (SRSU). Through a cooperative agreement between Midland College (MC) and SRSU, Martinez is able to complete all his coursework, including intensive laboratory classes, on the main MC campus. He will graduate in August and then plans to immediately begin taking graduate courses leading to a master's degree in Biology.
"I couldn't have done this without the opportunity to stay in Midland," explained Martinez. "I have a family and a full-time job, so the option of taking classes in Midland instead of the Sul Ross main campus in Alpine was very appealing. The program is excellent. The lecture component of my courses is taught via interactive video, and the labs are taught by Midland College professors in state-of-the-art facilities on the MC campus."
Martinez has lived in West Texas his entire life. He has claimed Midland as home for the past nine years. He was born in Odessa and lived in Lubbock for five years as a child while his father was pursuing a Chemical Engineering degree at Texas Tech. Martinez graduated early from Midland High School in 2012 because his girlfriend was pregnant, and he felt a sense of responsibility to obtain a full-time job in order to support his son Gabriel.
Education has always been important to the Martinez family. His father pursued his Chemical Engineering degree while he was in his 30s and had a family. So, Alex knew that having a child and job was no excuse for not going to college. He enrolled at Midland College in Fall of 2012 realizing that in order to advance his career, he needed to obtain a college degree.
"I had taken some dual credit classes from Midland College when I was in high school; I knew what to expect from college courses," said Martinez. "I was doing well for a few months, but then my girlfriend left me. I was heartbroken. I dropped out of MC, simply because I was having a hard time coping with life."
Martinez stopped out of Midland College for a semester, but in January 2013, he decided it was time to once again return to college, so he re-enrolled in Midland College and said that was when his life began to change. He not only discovered that he had a passion for science, but he also fell in love.
"I met Allison for the first time in a Midland College Math class," stated Martinez. "It truly was love at first sight for me—but not for her. I asked her out on a date three times before she finally accepted. Our first date was lunch at Jumburrito on Wadley. I guess she decided I wasn't so bad because a few months later when I asked her to marry me, she said 'yes.'"
Alex continued taking classes at Midland College and working at various locations including Petsmart and Wells Fargo. However, in spring 2016, he suffered a severe motorcycle accident and physically wasn't able to attend classes. After recuperating for several months, Martinez returned to Midland College in January of 2017. A year later, in December 2017, he graduated with honors and received an Associate of Science degree. While completing his associate degree, he also began taking courses toward a bachelor's degree in Biology. He took 18 credit hours this past spring semester and is attending summer school so that he will be able to graduate from SRSU in August.
He now works as the night manager for the Holiday Inn Express in Midland, and his wife Allison works evenings performing office work at Midland Memorial Hospital. Alex said that his parents help with child care in the evenings when Allison and he are working. The couple have two daughters—Sophia, age 2, and Genevieve, who is 5 months.
"As soon as I graduate from Sul Ross, I'll start taking graduate classes toward a master's degree in Biology," explained Martinez. "After I complete my master's degree, it will be Allison's turn to attend school. Her ultimate career goal is to be a neuropsychologist."
Even though Martinez is passionate about bugs, he also has other interests. In fact, one might consider him to be a bit of a "Renaissance man." In 2000, after watching the Olympics, he became interested in fencing. He now teaches private fencing classes. He also has an affinity for finance. He dabbles in the stock market, and is extremely proud of his credit score, which is 748. According to Experian, a score of 720+ is thought to be excellent, especially for someone in their 20s who is attending college and has a family.
"It just takes being organized and determined to make life work," said Martinez. "Life threw me some curve balls while I was in my late teens and early 20s, but I've always had a goal. Through my divorce with my first wife and then my motorcycle accident, I learned that even though things can get difficult, it's important to get right back out there and keep striving for that goal."
MC Office of Institutional Advancement

Pevehouse Administration Building, Room 141

Midland College, 3600 N. Garfield

Midland, Texas 79705

(432) 685-4556

Welcome

Midland College has many programs and options for our students. If you are investigating the opportunities we offer, our Welcome Center is the perfect place to receive general information.