'Into the Unknown: How Leadership, Ingenuity and Perseverance Put a Rover on Mars' Thursday, March 24, 2022
7:00 PM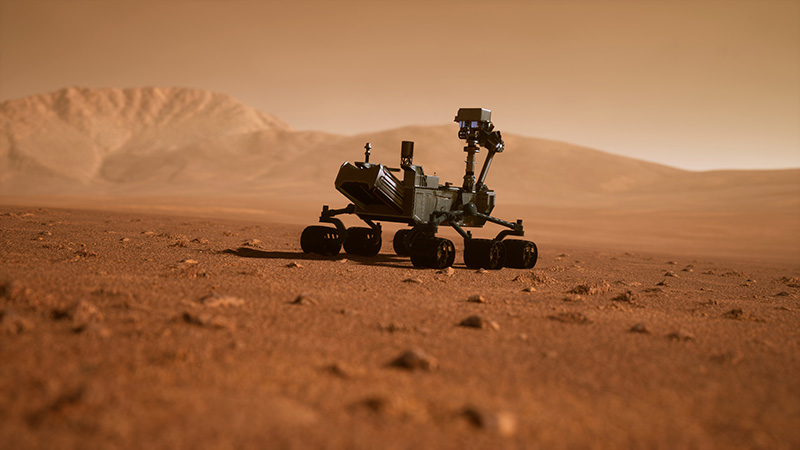 All are invited to hear Adam Steltzner and Dr. Moogega Cooper as they present their work on the Mars Rover project. Their presentation is an installment of Midland College's Davidson Distinguished Lecture Series.  The event is FREE.  Tickets are not required for General Admission seating. 
Contact the Midland College Foundation Office for information about Preferred Seating opportunities.
Special thanks to the Friends of the Series, who help provide additional funding for MC's lecture and performing arts series.
ADAM STELTZNER
LEADER & CHIEF ENGINEER
NASA MARS 2020 MISSION, ROVER PERSEVERANCE
Described as a cross between "Einstein and Elvis Costello," Adam Steltzner is a leader heralded for making the impossible possible.  And he wants to know "How great do YOU dare to become?"
An aspiring rock star turned Ph.D. rocket scientist, Adam Steltzner is praised as a cutting-edge innovator and a leader who literally brings out the very best in his teams.  Adam served as chief engineer of the Mars 2020 Mission & Rover Perseverance. 
A mission ten years in the making, Mars 2020 was plunged into uncertainty at a crucial juncture by the global pandemic.  Preparing a mission for Mars and not making any mistakes is immensely difficult under the best conditions.  Suddenly, Steltzner and the Jet Propulsion Laboratory team of 6,000+ was forced to operate remotely.  The collaborative teams pressed on and remarkably maintained all of the original assembly and launch timetables.  After a six-month journey through space, history was made on February 18, 2021 when the Rover Perseverance spectacularly landed on the Martian surface, more than 200 million miles from Earth.
Steltzner earlier led a breakthrough team that created the ingenious "sky crane" landing system for the Rover Curiosity that landed on Mars in 2012. 
The achievement prompted leadership guru Simon Sinek to state, "[Steltzner] shows us that doing what others think is impossible takes more than grit and courage. It takes the ability to inspire people . . . It takes leadership." 
Steltzner was also honored with the "American Ingenuity" Award from Smithsonian Institute. 
He is the author of The Right Kind of Crazy: A True Story of Teamwork, Leadership and High Stakes Innovation, that was named a "best leadership book of the year" by the Washington Post.  CEO READ picked the book as "Editor's Choice" for its unique strategies and perspectives.
Steltzner has mastered the art of managing complex teams and the concept of "making ideas reality." He knows first-hand how collaborative cultures foster innovation and how team-minded engagement fuels performance. He inspires audiences to dare greatly--to embrace the power of curiosity, creativity and courage to do what others say is impossible.
Dr. Moogega Cooper
Trailblazing Engineer of the famed Mars Rover Perseverance Mission for NASA's Jet Propulsion Laboratory
A real life "Guardian of the Galaxy," Dr. Moogega "Moo" Cooper holds the awesome responsibility of keeping the red planet safe from any of the Earth's contaminants.  Cooper is the planetary protection lead of the famed NASA 2020 Mars mission with its highly viewed landing on February 18, 2021.  Her work with NASA's Jet Propulsion Laboratory is integral to the ongoing mission to discern whether Mars could be habitable for humans and that we don't harm what's already there, a job she has been working up to for most of her life. 
After graduating from high school at 16, Cooper studied physics as an undergraduate, received a master's degree and went on to earn her Ph.D. in mechanical engineering at 24 years old with a dissertation on spacecraft materials.
Cooper is passionate about empowering organizations and others to achieve their dreams and overcome obstacles that she articulately conveys through her life story and love of her work.   A role model for women in science and technology, she is also passionate about introducing more people to the wonders of the STEAM world, including by talking about her work to boys and girls from underrepresented communities.
She is a recipient of several awards, including the NASA Early Career Public Achievement Medal, the Charles Elachi Award for Exceptional Early Career Achievement, and JPL Voyager Awards for Technical Leadership.
Location

Al G. Langford Chaparral Center
3600 N. Garfield
Midland TX



Contact

Midland College Foundation
(432) 685-4526
foundation@midland.edu

MAP
Apply to MC Now
Thank you for choosing Midland College! If you are here to collect a few credits, take courses to transfer, or here to start a new career, we welcome you.